Formerly called Gate C, the entrance was this year renamed Tecoma Gate after the nearby pavilion, which used to have a tecoma plant growing all over it.
Loading
The gate, designed by the gardens' landscape architect Andrew Laidlaw, opened on Wednesday. It pays tribute to the designs of early gardens' director William Guilfoyle.
Its sculpted motifs depict a short botanical history of the gardens including palms, arid species, New Zealand natives, coniferous trees, and indigenous grasslands that grew before the gardens were founded.
You can spot images of water lilies floating on the lake and buildings including the Temple of the Winds and the pavilion at Fern Gully.
A mosaic at the base of the gate was designed by artist David Wong and is inspired by historical sketches of arid plants and succulents.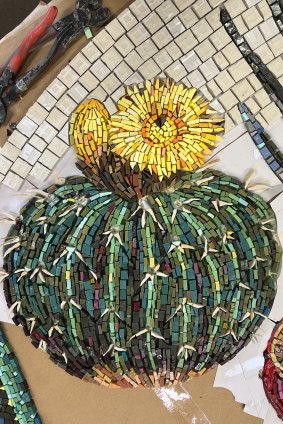 Plantings around the gate include pole cactus and euphorbia propagated from the gardens and dampiera brought from the Royal Botanic Gardens Cranbourne.
On Wednesday, Van Straten and Turley planted an American oak, which will be part of the revamped North American Drylands section.
Van Straten said that when he was a child, a bell would ring every day to signal the gate's imminent closure at dusk. But the new gate has a button to push to let you out if you wake up from a snooze and get stuck inside.
Van Straten and Turley encouraged others to make gifts to the gardens for the benefit of all.
The gate will carry a plaque with their names on it.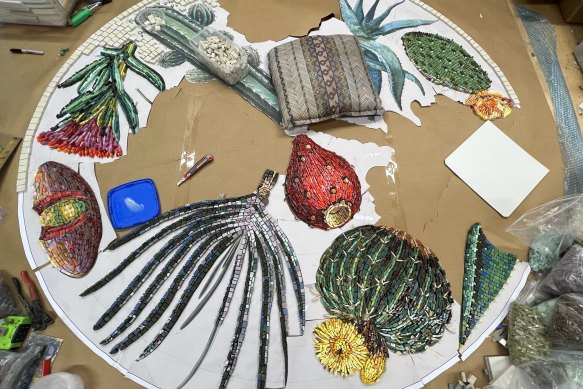 Turley, who often walks through the gardens, said the new gate was wonderful. "We're so thrilled," he said.
Van Straten said: "It commands you to come in and explore. I think it's a work of genius. It's so beautiful and it replaces a gate that used to be so terrible – not inviting at all.""
Royal Botanic Gardens Victoria director Tim Entwisle, who has just three weeks left in the role, said the gate was the entrance to the rejuvenated arid and drylands precinct.
He thanked Van Straten and Turley. "It's a really lovely way for people to reflect on, and to express their love and support for what we believe is a wonderful place," Entwisle said of such philanthropy.
Laidlaw said it was a small but beautiful project "full of detail and love". He hoped visitors would pause and enjoy the artwork and it would act as "a transition for people to come into this very rich and diverse place".
Get to the heart of what's happening with climate change and the environment. Our fortnightly Environment newsletter brings you the news, the issues and the solutions. Sign up here.
Related Posts