Adrian Benepe, President and CEO of the Brooklyn Botanic Garden (BBG). Photo: Michael Stewart.
EAGLE: I guess a really simple jumping off point would just be to ask you what got you into your love of trees and gardens and urban ecology? I know that you grew up in the city, so was this a fascination that has existed since you were young, or did you have to come to it at some point and what brought you there? 
BENEPE: I'm a city kid, born and raised in New York City, technically born in New Rochelle, but from the age of two and on, raised in Manhattan. I still live in Manhattan, in the neighborhood where I was raised, and so one key foundational aspect of me and my profession is literally growing up in the parks — the parks were my backyard. I didn't live in a house with a backyard, so the parks are where I found nature, which was a key thing. Also I was growing up in the 1960s and '70s, when things were not very nice and the parks were in a different shape, so I kind of experienced a big, broad decline in the condition of the parks. It became kind of dirty and dangerous during my early childhood and adulthood, and then I got to participate in the rebirth of that same park system, which was very rewarding. I grew up in uptown Manhattan, alternating between Riverside Park and Central Park as my main parks. But fast forward, I attended Middlebury College and was an English major. I intended to become a writer, a journalist of some kind. But when I got out of college I got a paying job working at Port Authority in New Jersey and an unpaid job at the West Side community weekly. That was in 1979, just when things were starting to turn around a little in the Parks Department, getting a little better, under a new parks commissioner named Gordon Davis. He was trying to turn around a very bereft system in the late 70s. He was working with a woman named Betsy Barlow Rogers, who was getting ready to create the Central Park Conservancy. She had just been appointed the administrator of Central Park by Gordon Davis, and so my editor said to me, "Hey, this interesting thing is starting to happen at the parks department."
EAGLE: So what happened then?
BENEPE: It was the early spring of 1979, I had just gotten out of college. So I went over and interviewed Betsy, and there was no Central Park Conservancy yet but it was kind of an idea in her head. The park was in really bad shape, but things were starting to turn around just a bit. Among other things, Gordon Davis created the Urban Park Ranger Program to help get people back into the parks by making them feel safer. He put young people in friendly uniforms with badges keeping an eye on everything, which was the first time of having a uniform presence in the park after many years of it being abandoned and vandalized.
EAGLE: You must have felt that you were seeing the beginning of something new?
BENEPE: Yes. There was a critical serendipitous moment. As I working at this newspaper,  Betsy said, "Hey, by the way, Gordon Davis is starting a new park rangers program, and it strikes me that you might be interested in a job like that, and I need a park ranger to work for me because I don't have any staff."
EAGLE: So this is literally the beginning of your lifelong commitment to parks?
BENEPE: Yes, I said to myself, "This is interesting, I get paid to walk around Central Park." So even though the park was in very bad shape those days, it was still a nice place to go, trees and some grass — not much grass, but some grass. There was graffiti everywhere and quite a bit of crime and drug dealing.
EAGLE: Right, and was that when you were developing that love for green spaces in urban cities? 
BENEPE: Absolutely! I was not an expert in park design or park history, I didn't have any technical knowledge of trees and plants, but some of my brother and sister rangers did. They had majored in forestry, and so we used to walk around on patrol and I'd say, "Tell me what that tree is," and they'd say, "Well that's a pin oak," and I'd say, "How do you know? How can you tell one tree from another?" and they'd explain to me that it was the shape of the leaf, the shape of the branching pattern, and what the bark looks like. Slowly I began to learn about trees from my colleagues.
EAGLE: So after that basic training in identifying trees, what happened?
BENEPE: Afterwards, I had a number of jobs in the parks department where I oversaw units that had to have a high level of knowledge of trees and tree science and horticulture and botany. My job was to supervise those people, but I would always try to learn from them. Over the years I had about eight jobs in the parks department, first as a ranger, and then took a brief hiatus where I got my master's degree in journalism after thinking I wanted to go back to being a writer. Then I realized that I just simply missed the parks work. Just as I was feeling unfulfilled about being a general reporter, the Parks Department called me and said, "Hey, we need someone to run the park rangers. Would you like to come back?"
EAGLE: So you returned to the Parks Department… for how long?
BENEPE: Yes, I came back and began an eight-year stint at Parks and had four different jobs, including running the press office and running the division of horticulture and natural resources where I learned a lot in that realm. Then took a job running historic houses and monuments at the department of antiquities, working at the time for Henry Stern, and still learning so much more about trees.
EAGLE: Ahh, the magic word, trees. Flash forward to the present, and now your daily existence must revolve around this terrific exhibit on trees.
BENEPE: No, not the present yet. I went to work for the New York Botanical Garden for a few years where I learned more about trees and plants, and then I was brought back to the Parks Department under the Giuliani administration. I had two more jobs, first as the Manhattan Borough Commissioner, where I oversaw all the operations for all of Manhattan, including trees and parks and horticulture. Among other things, we ran the Million Trees Program, whose goal was to add a million trees in seven years to New York City's streets, sidewalks, and parks, which was completed sometime after we left office. So all that added up to a career that was the intersection of trees, plants, the environment, ecology and cities.
EAGLE: Again, it's trees. (By the way, are you married to a tree?)
BENEPE: Trees definitely feel like family to me. Even after being parks commissioner, I spent eight years working at the Trust for Public Land, working on park development projects and urban park advocacy. So basically, since I left college I've been involved in parks and open spaces, particularly running tree programs. Now we ARE up to the present, and the current Power of Trees exhibition at Brooklyn Botanic Garden.
EAGLE: Right! Before we get to the exhibition, I wanted to ask you about the plan to increase the city's tree canopy to 30% by 2035. After all your time working in the parks and for park advocacy, is this a dream come true? 
BENEPE: Yes. There are so many good reasons to do this. So, essentially what's happened over the last forty years is that we've gone from just a few people understanding the value of trees, aside from romantic value, to a huge constituency. Thirty years ago at the Parks Department, we thought generally it would be a good idea to save the natural areas and undeveloped areas. We didn't have the proven science yet, that showed the extraordinary value of trees, and no one really got the crucial role that trees play globally — specifically in urban areas and the ways they mitigate climate change.
EAGLE: So your appreciation of trees has continued to grow along with the immense scientific proof of how utterly vital they are to the health of our climate?
BENEPE: Yes, I came to understand that bit by bit by listening to the experts at the parks department, or consultants. One of the things I did during the end of my tenure at the Parks Department was helping to create something called the Natural Areas Conservancy, and that was a nonprofit, a conservancy for all the large areas in New York City parks. For example, in Forest Park in Queens, or the Staten Island Greenbelt, the conservancy did a lot of research on how trees are surviving and what kind of care they're getting, which was not much.
EAGLE: So what is being done today?
BENEPE: It's taken a lot of research to figure out what the city needs to do, and how much it's going to cost to take care of our woodland trees. So the natural areas conservancy was pushing for this increase to 30% by 2035. I think it makes a lot of sense. It won't be easy to do, because a lot of the low-hanging fruit has already been picked, so to speak, a lot of the areas where we could plant trees, trees have been planted.
EAGLE: Now you're talking about public space?
BENEPE: Yes, I'm talking about parks and streets and sidewalks. It's pretty close to being full. One of our problems is dealing with private property. The city can't prevent owners from cutting down trees on private property, and can't force owners to plant trees. Part of the million trees program was to encourage people to plant trees and give away trees for people to plant. So they'll have to do an equivalent and really push hard for planting trees on private property. Another thing they can do: create some kind of tree preservation statute on private property, but that will be a tough thing to get passed into law.
EAGLE: But aren't there parts of the city that are like tree preserves on private property?
BENEPE: Yes, there's one in the Riverdale section in the Bronx and another in Staten Island that are special districts that have special zoning where you're not allowed to cut down a tree, even on private property, a "special natural district." And that's a really important concept because we're never going to get to that 30% if people keep cutting down trees on their private property.
EAGLE: Yes, from what we understand, maintaining the trees that currently exist is half the battle and adding the ones that we need to reach the 30% is the other half. Is that correct?
BENEPE: Yes, partially. There are other critical concepts to consider. For example, maintaining big oak trees is especially important, we've learned, because they store the most carbon.
EAGLE: Wow, that is a fascinating point.
BENEPE: Yes, an interesting factoid is that of all the carbon that's stored in trees in New York City, 80% of it is in woodland trees, which only make up 25% of the canopy cover. So they're outperforming the street trees because they're so much bigger and have so much more wood mass to store the carbon.
EAGLE: Right. Moving more towards the Brooklyn Botanic Garden exhibit, we were curious if the idea of trees being super important for the environment was the inspiration behind the exhibit, or if it was more the idea of trees being community pillars and cultural pillars, which I know you've talked a lot about. 
BENEPE: It was definitely both, both of those things and more. There are a number of ways to look at it. One way: just to encourage people to look at the trees. Many people come to the Brooklyn Botanic Garden just to see the flowers, so they come when the tulips are blooming, or the roses, or the bluebells, the daffodils, or even the cherry trees that bloom at the end of April to early May. They tend to walk past the trees because we have 3,700 trees here in the garden.
EAGLE: Are you suggesting that visitors have taken the trees for granted?
BENEPE: I suspect so, until now. This exhibit shows that we have an extraordinarily interesting set of trees growing here. But, unless you've been enlightened as to why they're important trees, you'll just walk past them. So part of this is to educate the people on the importance of the tree collection here generally, because there are really interesting specimens from all over the world. It's kind of like a microcosm of Brooklyn.
EAGLE: So the diversity of trees in the Brooklyn Botanic Garden is sort of a metaphor for the diversity of people in Brooklyn?
BENEPE: Yes, I like to think of it this way. When I'm looking out the window at what we call Pine Hill, which is a hill at the north end of the garden that contains many different kinds of pine trees, needle trees and conifers, from all over the world. They come from North America, South America, Asia, and Northern Europe. All these trees from all over the world grow their roots in the same soil. It's kind of like an image for the immigrant population of New York City, you know? We're a city of immigrants who are all putting down roots in the same soil.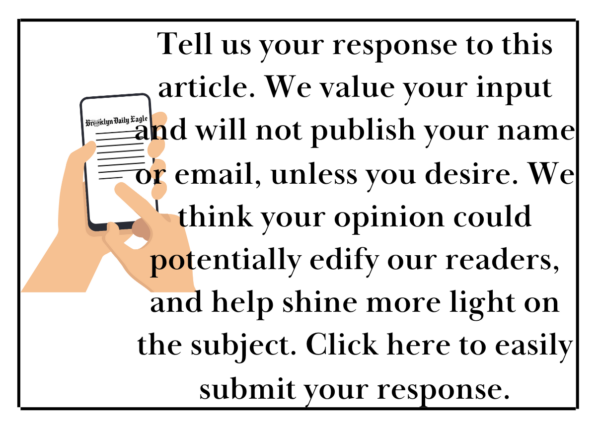 Related Posts