Brian Minter: Salvias are one of our most valuable garden plants
Opinion: True perennial salvias have really exploded in popularity over the past few years.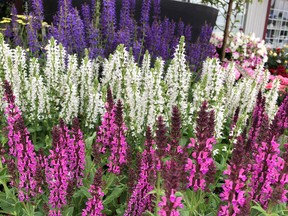 Reviews and recommendations are unbiased and products are independently selected. Postmedia may earn an affiliate commission from purchases made through links on this page.
Article content
One of our most valuable garden plants just happens to be one of the most important members of the mint family, which includes over 900 species from around the world.
Article content
Salvias, also known as Sage lamiaceae, play such a wide range of roles — everything from being a culinary flavouring to being some of our most stunning ornamental garden perennials and annuals. The majority of the varieties are tender.
The three species most relevant in today's gardens are Salvia nemorosa from eastern Europe and Asia, Salvia officinalis or garden sage, our traditional culinary favourite, and Salvia sylvestris. Other hardy perennial salvias, such as S. coccineas (the semitropical from Mexico) and S. farinacea, also contribute significantly to our summer 'annuals' gardens.
They all share many similarities. If you check carefully, they have square stems, whorls of two-lipped flowers spaced along the flower stalks and appear to look like a dense spike. Available in a range of colours from reds, lavenders, purples and blues to salmons, whites and yellows, they can create a diverse garden display. Most salvias have fragrant foliage and attract pollinators, hummingbirds and butterflies, making them invaluable garden plants.
Article content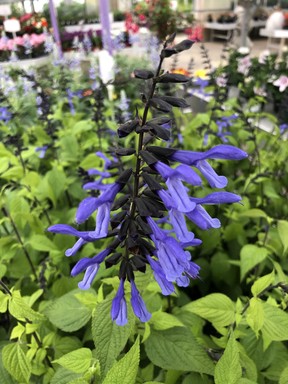 All salvias need good air circulation to prevent mildew and other fungal problems. Once established, most salvias are heat and drought tolerant, but require a deep and thorough watering to keep them blooming. Curiously, they dislike a hard pruning. However, a more strategic, careful pruning will encourage new growth that will both improve their overall appearance and promote some repeat flowers.
As an annual, a reliable hardy perennial or a tender perennial, salvias are making a huge contribution to our gardens right now. By far, the most popular salvia is S. farinacea. It's a great focal point in many gardens right now, and it performs equally well in containers or ground beds. The best-known is the Victoria series, which has beautiful blue or white flowers, and holds up nicely until October frosts. There are many other varieties from seed, such as the dwarf S. Rhea, the S. Strata and the dark blue Evolution series. All of them are great garden performers and attract pollinators.
Article content
One of the newer introductions is an interspecific series called Big Blue. Growing up to three feet, it provides a continuous show of deep blue flowers and tolerates both heat and drought. It's also a great bee, butterfly and hummingbird attractor.
Even though traditional red, white and lavender salvias have decreased substantially in popularity, mainly because of slug and insect issues, they will tolerate hot summer conditions. They're being replaced with many newer favourites, like Proven Winners' Rockin' series. These new hybrids are, perhaps, some of the most spectacular, tall-growing annuals, often reaching up to 24 to 30 inches. Their large, showy flower heads come in many colours, including blue, fuchsia and purple, and they, too, are a magnet for hummingbirds. This series offers true thrillers for container plantings and can anchor very impressive flower bed displays. Both heat and drought tolerant, the Rockin' series will add fresh vigour from midsummer through fall.
Article content
One of the most intriguing blue salvias is Dummen Orange's introduction called Hummingbird Falls. It grows up to three feet in height; blooms all summer with massive blue-purple flowers; and yes, hummingbirds love it. It needs to be grown in a large container to really put on a show.
Some of the new S. coccinea types are creating quite a stir. Two of the most interesting are Summer Jewel and the Hummingbird series. Both grow about 20 inches in height, flower well into the fall and are excellent choices for containers. Hummingbirds are attracted to the flowers, and later in the summer, goldfinches are attracted to the seeds.
There are many tender perennial salvias that deserve some attention in our gardens. Dummen Orange in the Netherlands has introduced a Heatwave series that, as the name implies, is very heat and drought tolerant. Available in many shades of pink, as well as salmon, white, blue and red, these varieties are continuous bloomers right through the summer and into fall, and they have an attractive rounded habit. They are super-pollinator attractors — the vibrant pink and red colours garner lots of attention from hummingbirds.
Article content
There are many other hybrids that thrive in the heat and simply pop in summer gardens. Salvia Hot Lips, with its unique white and red bicolour flowers, has become a much-in-demand favourite.
True perennial salvias have really exploded in popularity over the past few years. Led by the old nemorosa varieties, like Caradonna and May Night, there are so many new varieties in all sizes that it's hard to keep up. The compact Marvel series, especially the pink varieties, has a far longer re-blooming period.
The Scentsation series is also a compact variety, growing about 12 inches tall with a wide selection of colours, including soft blue, pink and white. It's a good repeat bloomer too.
Proven Winners has a nice collection, called S. Color Spires, in an assortment of vibrant colours. They're a little taller, about 18 to 20 inches, and they're basal branching, so you get a nicely rounded plant.
Beyond the few I've mentioned, there are many more salvia varieties available, but suffice it to say, all salvias of any species make wonderful contributions to our gardens right now and all through the summer. Pollinators, butterflies and hummingbirds will frequent gardens that have them, and it's nice to know that the heat of summer will not deter salvias' beauty or hinder their performance.
Related Posts